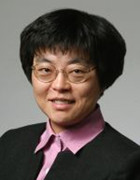 Connie Chang Hasnain
University of California, Berkeley, USA
IEEE Fellow, IEE Fellow, OSA Fellow

Connie Chang Hasnain is Associate Dean for Strategic Alliances, College of Engineering, and John R. Whinnery Distinguished Chair Professor of Electrical Engineering and Computer Sciences. She is also Chair of Nanoscale Science an d Engineering Graduate Group, University of California, Berkeley. She received her Ph.D. from the same university in 1987. Prior to joining the Berkeley faculty, Dr. Chang Hasnain was a member of the technical staff at Bellcore (198 7 1992), and Assistant a nd Associate Professor of Electrical Engineering at Stanford University (1992 1996). She is an Honorary Member of A.F. Ioffe Institute, Chang Jiang Scholar Endowed Chair Professor at Tsinghua University, Visiting Professor of Peking University and National Chiao Tung University. She is Founding Co Director of Tsinghua Berkeley Shenzhen Institute since 2015.
Professor Chang Hasnain s research interests range from semiconductor optoelectronic devices to materials and physics, with curr ent foci on nano photoni c materials and devices for chip scale integrated optics. She has been honored with the Quantum Device Award (2014), IEEE David Sarnoff Award (2011), the OSA Nick Holonyak Jr. Award (2007), the IEEE LEOS William Streifer Award for S cientific Achievement (2 003), and the Microoptics Award from Japan Society of Applied Physics (2009). Additionally, she has been awarded with a National Security Science and Engineering Faculty Fellowship by the Department of Defense (2008), a Humboldt Res earch Award (2009), and a Guggenheim Fellowship (2009).
She is an elected member of National Academy of Engineering, a member of the US Advisory Committee to the International Commission on Optics, National Academy of Sciences and Skolkovo Foundation Scien tific Advisory Council. She served on the National Research Council Committee on Optics and Photonics: Essential Technologies for Our Nation ""; US Air Force Scientific Advisory Board; Board on Assessment of NIST Programs, National Research Council; IEEE LE OS Board of Governors, a nd OSA Board of Directors. She was the Editor in Chief Journal of Lightwave Technology 2007 2012 and is Associate Editor of the OSA Optica, since 2013.